Blog
/ Global Awareness: What is it???
Global Awareness: What is it???
September 11, 2015  /   4 min read
Debbie Ribera
Part of Beyond the Block's mission is to make our students more globally aware citizens. You may have heard of the idea of global awareness before, or related ideas such as globalization and global citizenship. But what do we mean here at BTB when we say that we "improve global awareness" through our educational travel documentaries and curriculum? We believe that improving global awareness can be achieved through fostering four important skills: understanding others, understanding yourself, thinking critically, and imagining a better world for self and others. Read on to see what our students say after learning about these four aspects of global awareness!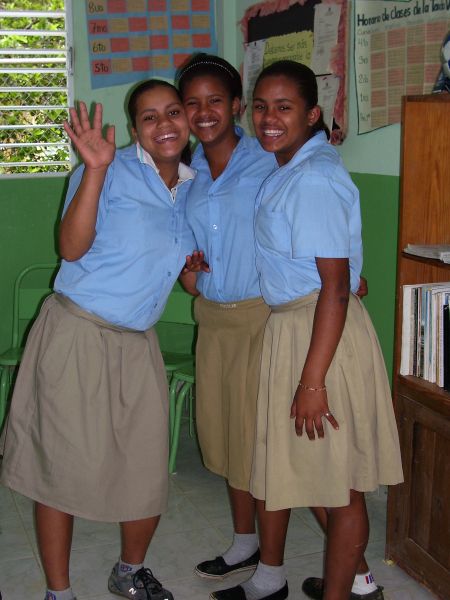 Gabrielina, Eliana, and Carmen at La Escuela Benito Martinez, Dominican Republic
Understanding others:
After our students watch our educational travel documentaries, the world that lies outside of their own neighborhood becomes not just an abstract concept to them, but a real place made of real people, who, it turns out, are not so different from them! Eleven-year-old Lety was surprised at what she learned about the children in the video:
"I learned more about other kids in other countries and how nice they are and how sweet and cool they are."
Mario, age 13, had never learned much about what it's like to live outside of San Francisco, let alone the United States!
"I really liked the video because it told me about other places beside San Francisco and where we're from. It told us about how other people live around the world."
Understanding yourself:
After seeing what the children featured in the documentary share about themselves, our students are then encouraged to reflect on and discuss their own culture, values, and attitudes. As one of our students, 13-year-old Jocelyne, observed:
"I learned our dreams and values should be important to us."
Vanessa, age 17, stated:
"I appreciate presentations like this because it makes people think deeply about their own lives."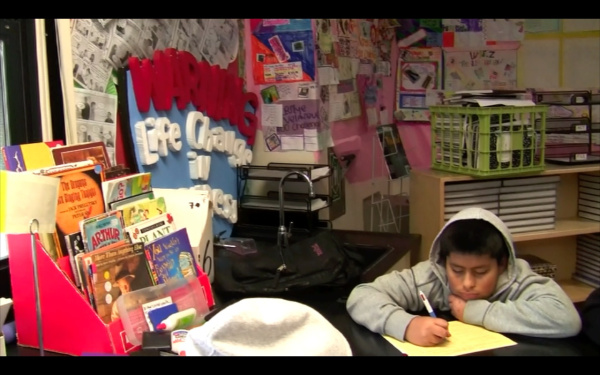 A student from John Liechty Middle School in Los Angeles writing his reflections on the video and lesson.
Thinking critically:
Being guided through activities and discussion related to the documentary helps students contextualize their own lives by putting them in comparison with the lives of others. Comparing and contrasting things like attitudes, resources, opportunities, and challenges are all ways in which our students practice critical thinking. For instance, when our 7th grade student, Ricky, learned that school is not free for many children in Haiti, he reflected on his own life and how the system of education in the US affects it, saying:
"This presentation changed the way I think about my education. I feel that we take things for granted here in the US. Our school system is free and we take it for granted. An ordinary kid in Haiti dreams to be a politician, teacher, doctor, or the president so they can help the people and kids. We can at least take advantage of our school system and grow up and be successful."
Reflecting on the systems involved in your own life and how those systems affect the lives of others is an important step in becoming globally aware. But what about putting this awareness into action?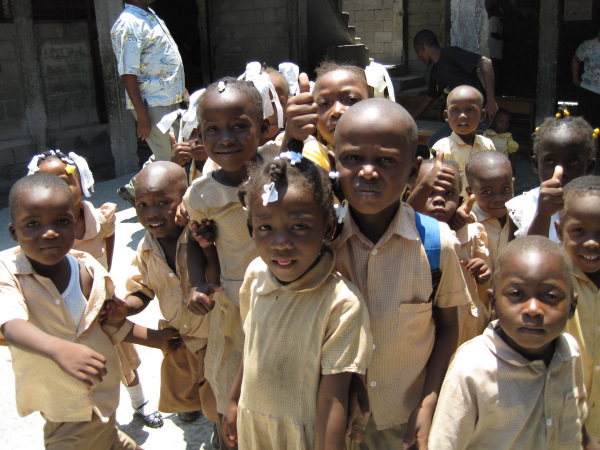 Students from a primary school in Cité Soleil, Port-au-Prince, Haiti, on recess in their school yard.
Imagining a better world for self and others:
Many of our students believe they are incapable of making positive changes in their academic lives as well as in their personal lives. Having such a low sense of self-efficacy is one of the many contributing factors to their high risk of school dropout. Engaging with another culture gives students the opportunity to exercise their perspective-taking abilities; students see their lives from a different point of view and develop new ways of looking at old problems. As 7th grader Janelle said:
"I learned from this video that no matter what struggles I face, I can either run away from it or face it with my head held high. While watching this video I did shed tears, and it made me think what can I do to change the world? I'm still trying to discover it. I also learned I don't need everything to be happy and to just stop asking for things and just be grateful for what I have. I also saw that through these struggles the Haitians didn't think of themselves but of others, which is inspirational and made me think to never give up."
Eighteen year old Henry was inspired to continue his education and help others after watching the video, saying:
"I would love to help out people that want to learn English there [in the Dominican Republic]. I am going to go to college and help people learn English."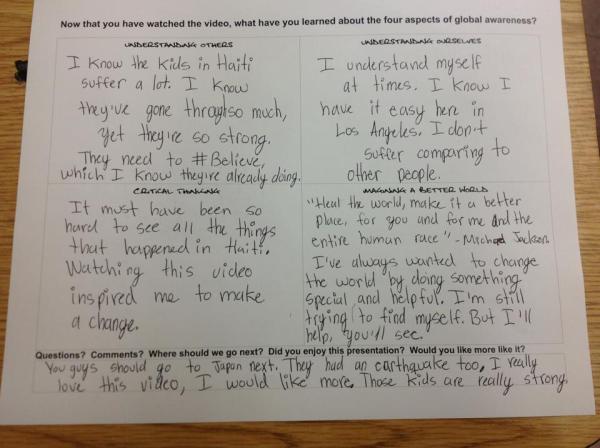 After seeing the BTB in Haiti video, a student from Stevenson Middle School in Los Angeles writes: "I've always wanted to change the world…I'll help, you'll see."
Positive Ripple Effects
For BTB, global awareness is not about teaching students a list of trivia, capitals, or facts and figures about a country for them to memorize. Nor is it about taking the easy way out and perpetuating cultural stereotypes in the interest of "learning" about "other" cultures. Instead, global awareness is about fostering opportunities for engagement, creating meaningful connections, understanding the connection between oneself and another, and examining how the choices we make and the actions we take locally, will have (and already have had) ripple effects globally. Ultimately, our students learn that being a good global citizen means trying to be the best person you can be every day, both for yourself and for others.

Do you know of any students at schools here in the US who could benefit from this curriculum? You can sponsor a presentation at their school and support our efforts by clicking here:
< Back to the blog
You might also be interested in...